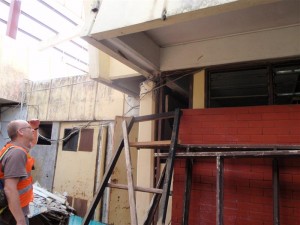 Our expertise in fatigue and earthquake engineering means that we have an opportunity to contribute to people's success and safety at local, national and international level. We find this exciting.
The great motivation in the work is that every day we are engaged in solving problems and learning something new in the process.  This way we are actively involved in increasing substantially the chances of survival for both buildings and their occupants.
• DR CLARK HYLAND
" This is what motivates me – helping people find the way to overcome the challenges they face. This extends to the challenge of dealing with earthquakes and fatigue of structures "   Clark.
Dr Clark Hyland, of Hyland Fatigue and Earthquake Engineering, has many years of experience with structures – both working for engineering consultants, the New Zealand Heavy Engineering Research Association, Steel Construction New Zealand Inc., and running his own business. He knows how hard it is to commit hard earned funds from an already tight capital works budget to assess and upgrade a structure.
Clark is well respected as someone who understands the engineering of steel structures and is able to acknowledge and bring together expert opinions and views to achieve a concise solution. In 2009 he was appointed chairman of the New Zealand Steel Structures Standard Committee P3404, and was also a member of the Joint Australian and New Zealand, Steel Manufacturing Standards Committee BD23. In 2010 he was elected to the Management Committee of the New Zealand Society for Earthquake Engineering.
Clark proves that engineers are not all the same. He gained undergraduate degrees from the University of Auckland in Civil Engineering and Commerce, with a management studies focus. A PhD was added later in the pursuit of a reason for the unexpected fractures of steel structures in the Californian and Japanese earthquakes of the mid-1990s.
He also knows what could happen if you don't invest in enhancing your structure's economic life or protecting it against earthquakes. In October 2009 Clark was part of the NZSEE team supported by NZAID, to assess the safety and reconstruction options for earthquake damaged buildings in Padang, Indonesia. In May 2010 he then participated in the NZSEE Learning From Earthquakes mission to Santiago, Vina del Mar and Concepcion in Chile.
Click here to read about Clark's doctoral research on the assessment of ductile endurance of steel structures in earthquakes.